The amazing party atmosphere brought by Daylight during the day reaches new heights once the sun has gone done. Daylight Beach Club at Night is the ultimate night swim event where guests can party under the stars, cool off in the pool, and enjoy their favorite musical acts with eccentric lighting and production. The main stage is the focus of all the fun in this open-air environment.
With multiple pools, a dance floor, cabanas, daybeds, and bungalows there is plenty of room to completely relax or go wild. The possibilities are endless at this night time Las Vegas pool party. Feel free to dress in nightclub or pool attire, both are accepted.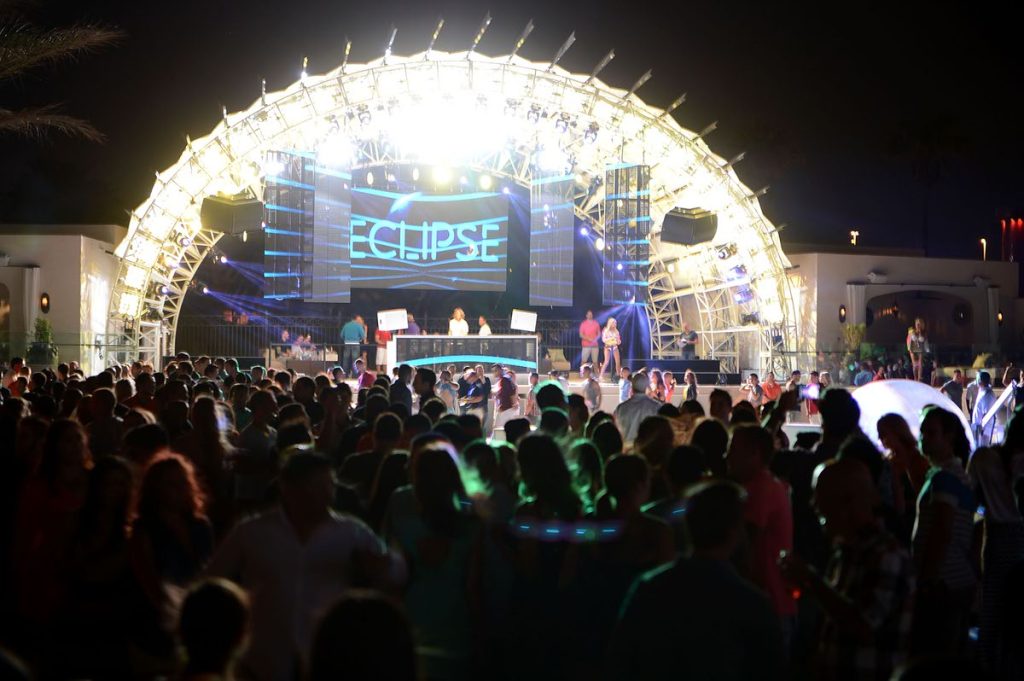 About Daylight Beach Club At Night Las Vegas
Where Is Daylight Beach Club At Night Located?
Daylight Beach At Night is part of the Mandalay Bay Hotel property located at 3950 S Las Vegas Blvd, Las Vegas, NV 89119.

How To Get To Daylight Beach At Night
Daylight Las Vegas is located near the south end of the Mandalay Bay property, and even has it's own valet and self parking. Make sure to tell your taxi or driver to drop you off at the entrance to Daylight because the walk from the regular Mandalay Bay valets can be quite far.

How Much Does It Cost To Get In?
Entrance costs for Daylight can vary depending on the event and/or the performer. Typically the price for male entry is between $30 & $75 and for female entry is between $20 & $50. VIP bottle service costs vary quite a bit depending on the event and table location.

When Is Daylight Beach At Night Open?
The operating hours of Daylight At Night are Fridays & Saturdays 10:30pm until 4am.

What Music Is Played At Daylight Beach At Night?
Latin, hip hop, and open format are the most common music genres at Daylight Beach Club At Night. The music type may vary depending on the scheduled DJ or performer.

What To Wear To Daylight Beach Club At Night?
Feel free to wear either nightclub attire or swim attire. Things like shorts, sandals, hats and swimwear are allowed and encourage.
How Much Is Daylight Beach Club At Night Bottle Service?
Common bottles of alcohol at Daylight Beach Club At Night are priced between $550 and $650. You'll receive the pricing for all items on the Daylight Beach Club menu upon arrival at your table. When you make a reservation, you are booking a table that includes a minimum spend, or an amount that is included that all goes toward your choice of alcohol. The prices do not include 8% tax, 15% gratuity and 2% venue fee.
What Is The Best Table At Daylight Beach Club At Night?
The best tables locations are the bungalows and the grand cabanas. Similar to the setup during the day, they are large in size, can accommodate bigger groups, and have direct views of the performers and visuals. Plus they have their own private pools. It is not uncommon to find these table options priced at $4,000+.