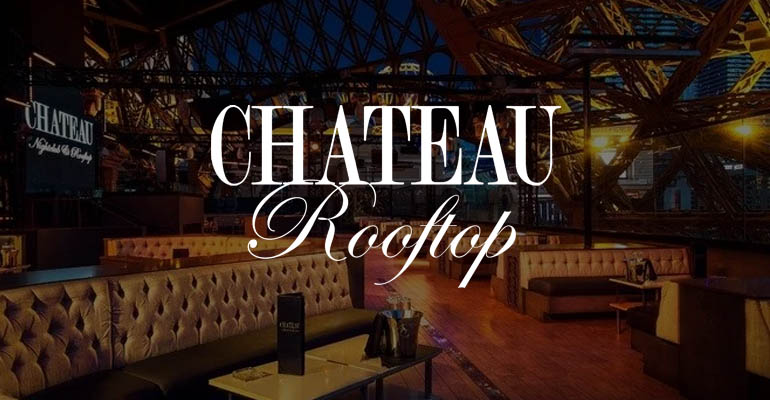 With a unique rooftop experience Chateau's parties under the Eiffel Tower are like no other venues in town. This is a high-energy setting with fantastic music. When you first take the curved staircase at Chateau's entrance, and make your way to the terrace deck, you will find the a lavish venue with dance floor and multilevel VIP table areas. The DJ booth is located in the center of it all.
Enjoy this signature, open air environment while you soak in the lights and atmosphere of The Strip. Being located directly beneath the Eiffel Tower has its benefits including spectacular views of the Bellagio fountains. Greenery can be found intertwined with this Versailles style setting under the desert sky. There are plenty of tables an areas to mingle at, and a center dance floor where you can let loose until the morning hours. If you are looking for a Chateau promoter you have landed in the right place.
About Chateau Las Vegas
Where Is Chateau Las Vegas Located?
Chateau is inside the Paris Hotel located at 3655 S Las Vegas Blvd, Las Vegas, NV 89109.

How To Get To Chateau
Chateau Nightclub is located close to the hotel's entrance from Las Vegas Blvd. From the main valet head left. Those that park in the Paris self parking garage will walk through the casino toward the front of the hotel to find the club entrance.

How Much Does It Cost To Get In?
Entrance costs for Chateau can vary depending on the event and/or the performer. Typically the price for male entry is between $30 & $50 and for female entry is between $20 & $40. VIP bottle service costs vary quite a bit depending on the event and table location.

When Is Chateau Open?
The operating hours of Chateau Nightclub are Thursdays, Fridays, and Saturdays from 10:30pm until 3am.

What Music Is Played At Chateau?
The most common music played at Chateau is top 40 and open format (a blend of dance, hip hop, and top hits).

What To Wear To Chateau?
There is a dress code to attend Chateau. To avoid any problems at the entrance, men should avoid athletic wear, sandals, and shorts. A collared shirt, nice jeans, and dress shoes will always be accepted. Women have more flexibility in what they can wear. Avoid wearing anything to risqué or revealing.
How Much Is Chateau Bottle Service?
Common bottles of alcohol at Chateau are priced between $400 and $600. You'll receive the pricing for all items on the Chateau menu upon arrival at your table. When you make a reservation, you are booking a table that includes a minimum spend, or an amount that is included that all goes toward your choice of alcohol. The prices do not include 8% tax, 15% gratuity.
What Is The Best Table At Chateau?
The best tables are located on the dance floor. They are large in size, can accommodate bigger groups, and have direct views of the performers and visuals. It is not uncommon to find these table options priced at $750+.